Dave Cap passes away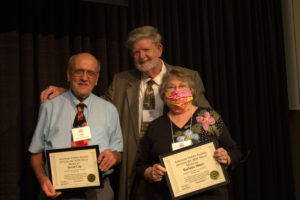 Dave (left) accepting the 2021 ADS Silver Medal Award.
Pictured with Jerry Landerholm and fellow recipient Barb Miner.
With great sadness the Dahlia Society of Ohio (DSO) informs you of the sudden, unexpected passing of Dave Cap. Dave was our Show Chair for well over 20 years. He spent countless hours organizing our shows at Cuyahoga County Fair, Summit Mall, and Petitti Garden Center Oakwood. For those of you who knew him, you know how kind, generous, and pleasant a person he was, a truly giving friend. Many establishments in Parma, OH will miss the vases of dahlias he shared with them. How fitting it was that he passed while in his basement caring for tubers and plants. We will miss you Dave.
Dave was laid to rest on April 7, 2022 at Ohio Western Reserve National Cemetery, Rittman, OH. Rest in peace, dahlia friend.
Obituary for DAVID FRANCIS CAP "The Dahlia Man" | Mallchok Funeral Home (mallchokfh.com)
DSO President Jerry Moreno's remembrance:
Thank you for all of the emails I have received from new members who never met Dave and from those of us who knew him and worked with him for decades. As humble a person he was, he would no doubt be a bit embarrassed over the many kind and praiseworthy words that people have expressed concerning him. Even Mayor DeGeeter of Parma issued a Proclamation that expressed condolences to his family and friends.
As I have contacted individuals at our show sites (Cuyahoga Fair, Summit Mall, Petitti Oakwood) to inform them of Dave's passing, they all were shocked and grieve with us, even the new manager at Summit Mall who had met Dave only once to plan for this fall's show expressed how impressed he was with how passionate Dave was about the dahlia.
Without a doubt, Dave was the backbone of DSO. A purpose of the society is to promote the dahlia to the general public. A primary activity in that regard is to put on shows. Dave was our Show Chair for over 20 years. He managed inventory and stored all the supplies (hundreds of vases, Oasis, cloths and items for the Courts of Honor,…) and was the contact to the show site personnel. He did it all and he did it all extremely well indeed. And he transported all the supplies to and from the shows in his "dahliamobile" van which he packed in a very detailed way. (For those of you who helped, you know how precise the packing was as he made sure everything went exactly where it was supposed to go, by Dave's plan!)
Dave was a recent recipient of the ADS 2021 Silver Medal.
He grew about a hundred dahlias in his raised beds behind his garage. But he propagated many more that he gave away or grew elsewhere. If anyone needed extra plants he would invite them over to his backyard where he had an elaborate setup of layers of screen structures that held many plants to choose from. He was a very giving person, giving of his tubers, giving of his plants and giving of advice as to how to grow and care for the dahlia. Many establishments in his Parma neighborhood will miss his providing them with dahlias for their customers to admire on a regular basis.
He did so many other things for the society. He helped to propagate plants at Willoway Nursery that we grow for our sales. He collected and organized tubers for our society's sale. He would go to someone's house to collect tubers that they could not get to him. A machinist by trade, he would machine any part that was needed to repair a cart, say, or create a contraption that would enhance the power or direction of a water spray. If we needed something fixed, we called on Dave.
Brad Freeman, President of the American Dahlia Society, mentioned in his condolences that another purpose of a dahlia organization is to create friendships as we promote our favorite bloom. He said, "Dave was an integral part of the Dahlia Society of Ohio but more importantly he was your friend." Indeed, he was, a friend to all who knew him. It was easy to get to know Dave. It didn't take long. He was a caring and compassionate person who never had a negative word to say about anyone which is one reason why we grieve his passing so deeply.
Our troubled world needs many more people like Dave Cap. Rest in peace, Dahlia Man, dearest friend.
We miss you, Dave, and will remember you for a long time to come.
Jerry
DSO President