Welcome to the American Dahlia Society (ADS) Website
New to our site? Please visit our welcome page.

Learn about species dahlias Learn about our Genome Project

It's time to renew your ADS Membership
Please submit/renew your membership by December 31st. You may join "at large" but for more fun, get involved with a local society and join (at a slightly discounted rate) via the local society. For more information about membership and why you would want to join the ADS, see our membership page.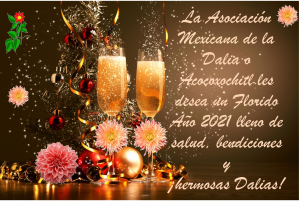 The Mexican Association of the Dahlia or Acocoxochitl wishes the American Dahlia Society a Flowery Year 2021, full of good health, blessings and beautiful Dahlias! You can visit their website at http://daliaoacocoxochitl.com.mx/

2021 Calendars to support 2022 ADS National Show

New Opportunity – Oversees Supporter
The Overseas Supporter annual subscription will allow dahlia enthusiasts in other parts of the world to connect with ADS members in North and South America.
The annual subscription (November-October) will provide, via email, quarterly (December, March, June, and September) electronic copies of the Bulletin in addition to the most recent version of the Classification and Handbook of Dahlias. More details.

See previous home page feature stories.