New to our Online Classification Guide or need a refresher on its use? Visit our detailed instruction page.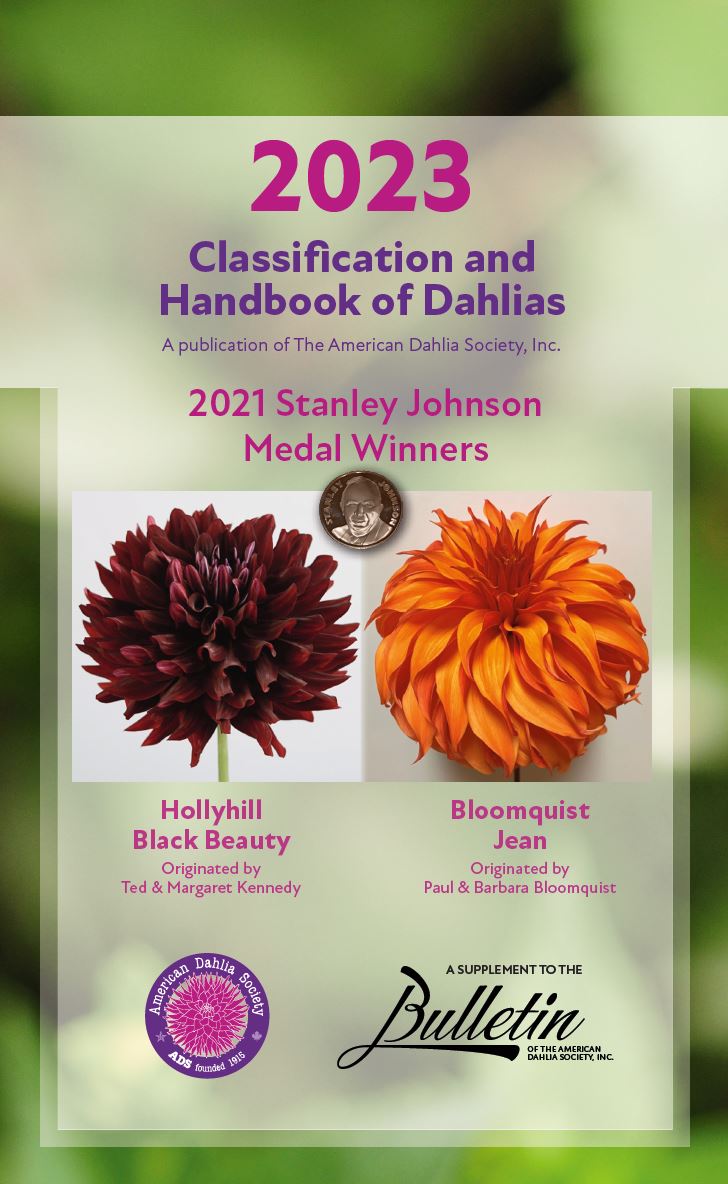 For term definitions, use these links:
Class
Size
Forms
Color
Enter or choose your criteria below. Results table will change as you enter criteria.
Note: The basis for your search is the entire Composite Listing 1976 – present (more than 10,000 cultivars). Only ADS registered dahlias are included.
NEW! If you like to use this OCG in the garden or at a show – check out the Field OCG. Works exactly the same way as this page but does not have the handbook picture, terms definition links, or instructions.
| Cultivar | Class | Size | Form | Color | Photo | Have Picture? |
| --- | --- | --- | --- | --- | --- | --- |
| | | | | | | |
| 18TH SURGICAL HOSPITAL | 2214 | B | SC | V | | yes |
| 20th AVE & BAKER RD. | 4001 | M | FD | W | | yes |
| 20TH AVE ESTRELLA | 9207 | | O | DR | | yes |
| 20TH AVE GWEN | 6002 | | BA | Y | | yes |
| 20TH AVE INGRID | 6108 | | MB | L | | yes |
| 20TH AVE MEMORY | 6004 | | BA | PK | | yes |
| 20TH AVE MORNING MIST | 6009 | | BA | PR | | yes |
| 20TH AVE OLD MAJOR | 6008 | | BA | L | | yes |
| 20TH AVE PURE PRINCE | 4008 | M | FD | L | | yes |
| 20TH AVE RAYNA | 3005 | BB | FD | DP | | yes |
| 20TH AVE SOFTER PEACH | 3004 | BB | FD | PK | | yes |
| 20TH AVE SUNSET | 9603 | | S | OR | | yes |
| 20TH AVE TRADITION | 6101 | | MB | W | | yes |
| 22 BARBARA K | 9014 | | CO | V | | |
| A - ONE | 6204 | | P | PK | | |
| A D STEWART | 1004 | A | FD | PK | | |
| A J | 6106 | | MB | R | | yes |
| A J BLUE | 4005 | M | FD | DP | | |
| A L ELAINE ORNESS | 3309 | BB | C | PR | | |
| A L GEORGE HARRISON | 3409 | BB | IC | PR | | yes |
| A L JANIS JOPLIN | 4308 | M | C | L | | |
| A L JIMI HENDRIX | 4014 | M | FD | V | | |
| A L JOHN BONHAM | 2510 | B | LC | LB | | |
| A L KEITH MOON | 3014 | BB | FD | V | | |
| Cultivar | Class | Size | Form | Color | | |