Anthony "Tony" Evangelista passes November 2, 2023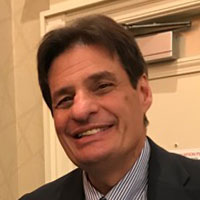 We are saddened to tell you that Tony Evangelista passed away on November 2 at the James Hospital in Columbus, Ohio, surrounded by his loving family. There are times in life that one encounters individuals who radiate warmth and compassion, making it almost impossible not to be drawn to them. Tony was one of those individuals. He held a deep and unwavering love for his family, his profession, and his various interests, including his passion for dahlias.
Tony started growing dahlias around 1980 while he was still in veterinary school with around 20 plants and was part of the Greater Columbus Dahlia Society (GCDS). He put a pause on growing dahlias when his kids were young as he wanted to spend time with them – but once they were grown, Tony began getting involved in growing and exhibiting dahlias again and became part of the Dahlia Society of Ohio (DSO).
Throughout the years, Tony earned a reputation as one of the most accomplished exhibitors in the nation. During this time, he also developed a multitude of tools aimed at achieving flawless blooms and ensuring their secure transport to exhibitions. If you had the privilege of visiting his garden, Tony would generously share his insights on plant grooming, soil improvement, growing organically, and even offer a refreshing beer as you relaxed on his patio, engaging in discussions about all things related to dahlias. Tony and his wife Jackie were present at most local shows, and it was not uncommon for them to embark on long journeys in their van to attend the Midwest and National shows. Together they operated seamlessly, efficiently preparing and labeling their blooms for exhibition like a finely tuned team. That partnership led to many successes on the bench, with Tony's blooms frequently appearing on the head table.
Tony's love for exhibition led to him joining the American Dahlia Society (ADS) Board, where at the time of this writing, he was serving. as the 2nd Vice President. In this role, Tony was responsible for overseeing Classification, Judges Accreditation, Seedling Bench Evaluation, Trial Gardens, Garden Dahlias and Research and Education. Tony played an integral part over the years, refining ADS standards for judging and classifying dahlias, most recently contributing to the new Guide to Judging Dahlias. He has also worked closely with others on the virus research project, drawing much-needed awareness to the subject.
Tony's commitment to dahlias extended beyond his involvement with the ADS through his leadership and participation in the Dahlia Society of Ohio (DSO). As the society expanded in recent years, Tony took on a unique role, focusing on guiding and supporting new growers. He generously volunteered as a mentor, making himself available to answer questions through virtual platforms and email, as well as in-person visits with growers, providing valuable advice on cultivation and improvement.
Additionally, as Co-Chair of the Judging Committee, he played a pivotal role in providing educational programs for the DSO, including judging seminars and workshops on the art of staging blooms. He also shared his enthusiasm and aptitude for dahlia hybridization, motivating interested growers to begin preserving their own seeds and offering guidance on how to assess the potential of seedlings. Over the years, Tony cultivated several varieties, including but not limited to Jackie's Red Devil, Liz Evangelista, Jackie Evangelista, Mae Evangelista, and Francesca Evangelista. His cultivars have earned numerous accolades from the ADS. In recognition of his many years of contributions to the local growers, the DSO, and the ADS, Tony was awarded the ADS's most prestigious award, the ADS Gold Medal at the 2023 ADS National Show in Portland.
Tony had a lasting impact on countless lives, and his memory will serve as an ongoing source of inspiration for those fortunate enough to have crossed paths with him. Although Tony is no longer with us, his legacy will serve as a reminder of his deep love for the dahlia and unwavering commitment to the GCDS, DSO and ADS.
Rest in peace, dahlia friend.
Cleveland Plain Dealer Obituary