Don McAllister passes 7/31/2021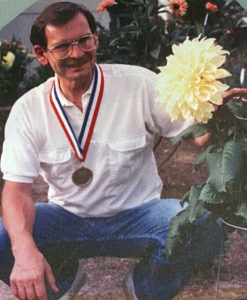 The Colorado Dahlia Society announced the loss of Don A. McAllister on July 31, 2021 at the age of 82. He passed away after an eight-year battle with Alzheimer's.
Don was born November 6, 1938, in Carlisle, MA, where he spent his early years and middle childhood. His family relocated to Troy, OH, for his adolescence years. He loved to spend his summers on Cuttyhunk Island, MA, where he worked in a family restaurant as well as with a tourist fishing outfit. He graduated from Troy High School, and continued on to Harvard University, graduating with a Bachelor Degree in Arts and Sciences.
Don moved to the western United States, where he was involved in computer sciences for various organizations. He pioneered some of the first computer programming.
He met his faithful wife, Carroll, and married in 1977. They were both avid dahlia growers. The City of Longmont, Colorado, awarded them with a proclamation for opening their dahlia garden for public enjoyment. They were honored with the Best Flower Garden Award by Denver's NBC affiliate in 1994.
Don was active as an officer and webmaster of the Colorado Dahlia Society website for many years. He participated in conference calls for the ADS officer meetings, serving as ADS Technical Resource person. He was constantly striving to share his love of dahlias by answering emails on a local level as well as nationally. Dahlia Alert was created to aid in better communication. He expanded the Big List of Dahlias, and promoted The Marketplace, where dahlia suppliers' information was easily available to members and growers. He encouraged virus research.
The American Dahlia Society awarded him their highest honor, The Gold Award, in Dec 2010, for his constant effort and involvement in promoting dahlias across the United States and the world. He constantly shared innovative ideas to make dahlia growing and showing easier.
In September 2021 The Colorado Dahlia Society posthumously honored Don at their only 2021 Show. Carroll was present to receive the Gold Medallion in honor of Don's enthusiasm for the dahlia, for our shows, and for his constant effort to improve our presentations.
Kelvin Floodlight (AA FD Y) and Colorado Classic (BB ID DB) were Don's favorite blooms. Carry Don's enthusiasm forward; plan on included one or both of these blooms in your garden for the upcoming season.
A Celebration of Life was held September 25 in Longmont. A number of club members attended, showering Carroll with beautiful dahlia bouquets. The family requests those who would like to express their sympathies, please consider making a charitable donation to the Alzheimer's Association in Don's name.