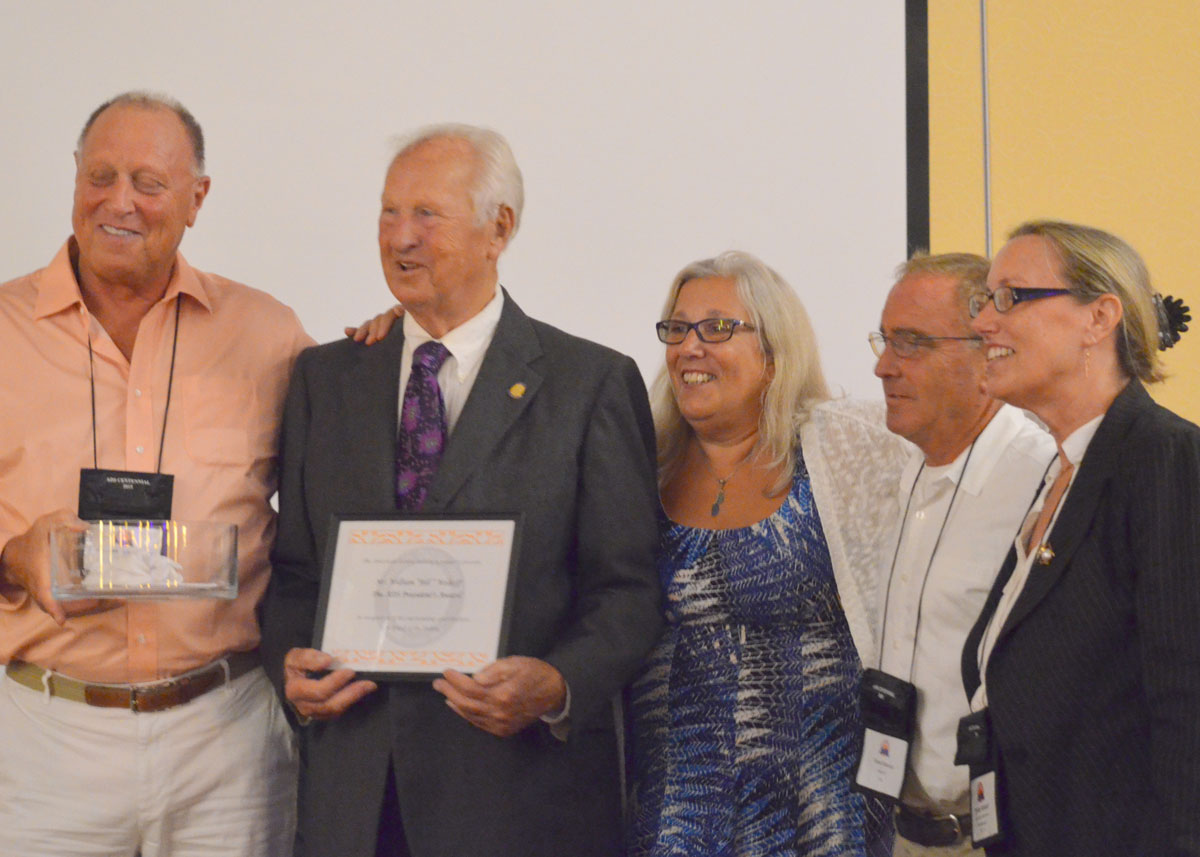 The ADS President's Award is given to persons who have made a superb effort, in the region or locale where they live, to one or more programs and projects that have promoted the dahlia.
Bill worked with Steve Nowatarski to revitalize MIDS's Paul Callahan Dahlia Garden at Planting Fields and saw the importance of a dahlia garden to a dahlia society. It not only provides a hands on environment for teaching various growing techniques, but it can supply the only thing that keeps clubs thriving … new members.
Bill searched out other parks that could provide space for a garden for LIDS and found the Bayard Cutting Arboretum in Great River which is part of the New York State Park System. The 691 acre estate designed by Frederick Law Olmsted (who also designed Central Park in NYC) and Manor house was donated to New York State by Mrs. Bayard Cutting. Bill proposed a dahlia garden to the then director of the park, Brian Feil. Brian was quite hesitant at first, feeling that he might get stuck with more problems if the new garden was not properly maintained. So in the beginning Brian allowed only nine raised beds to be built. Over the first few seasons Brian saw that a dedicated crew of "dahliaholics" led by Bill Wolkoff came down every Saturday morning to keep the dahlia garden in meticulous shape Brian was so pleased by the club's dedication that he allowed for further expansion of the garden.
The next few years Bill not only designed a garden with meandering paths and interesting shaped beds, but a variety of hard scaping. A Grand Trellis and built in benches toped with colorful birdhouses formed a backdrop tor one end of the garden. Near the center of the garden Bill built a pergola with seating underneath for a shade oasis on a hot day. The pergola is topped with four mature trumpet vines that attract humming birds at dusk.
As the garden increased in size, so did the number of visitors. To accommodate the increased traffic Bill last year built another pergoloa with seating and six more raised beds. Bill never ceases to amaze us, he also built a grow room where we can start up our plants under fluorescent lamps and a hoop greenhouse (20′ by 36′) that breaks down when not in use.
Did we mention that Bill is 92 years young?
It is with great pleasure that we award the ADS Silver Medallion to Bill Wolkoff.