The ADS sponsors a number of trial gardens across the United States and Canada. They are designed (1) to allow dahlia originators a way to rigorously evaluate and promote their new cultivars and (2) to provide dahlia growers a way to know the quality and the classification of new introductions. The trial gardens are generally located in parks or gardens where the public can visit and watch the dahlias grow and bloom.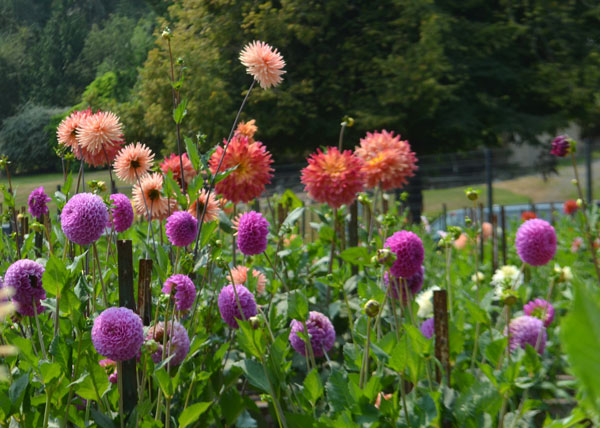 The Tacoma Trial Gardens at Point Defiance Park presented a trial garden judging class on Sunday, August 6, 2017. Led by TG supervisors, Marilyn Walton and Don Filand, dahlia growers and judging candidates from across Washington State and Canada had the opportunity to work with ADS Senior Judges to get experience and instruction in judging seedlings. The gardens offered a variety of dahlias of varying types and sizes, giving everyone an opportunity to work across the spectrum of dahlia features. The quality of the blooms was outstanding, and the weather was perfect for a morning in the garden.
See pictures of the Tacoma Trial Garden here.
The Midwest Trial Garden is in Bonneyville, Indiana. They share these pictures.
The Portland Dahlia Society is very fortunate that Swan Island Dahlias provides them with space for the Canby ADS Trial Garden at their farm. The garden is right next to Swan Island's display garden, picnic areas, and almost 40 acres of Swan Island dahlias. The trial garden garden is dazzling. Trial garden judging forms and supplies are always available on site, so judges can come and evaluate the entries whenever it is convenient.
Use this link to see pictures of the garden: Canby Trial Garden 2017
The ADS Mid-Atlantic Trial Garden has a remarkable display of seedlings and named cultivars. The National Capital Dahlia Society tends this garden. See pictures here, on their facebook page, or at this link.