Welcome to the American Dahlia Society (ADS) Website
New to our site? Please visit our welcome page.

CANCELLED
AMERICAN DAHLIA SOCIETY
54TH NATIONAL SHOW
September 10 – 14, 2020
Wenatchee, Washington
Sadly, due to the uncertainty created by the current global health and financial crisis, we announce that the 2020 National Show is cancelled. The Federation of Northwest Dahlia Growers, hosts for the show, plan to reschedule for a date in September 2024. See you in Wooster, Ohio 2021; Reston, Virginia 2022; Portland, Oregon 2023; and Wenatchee, Washington 2024.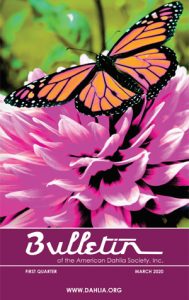 We've heard that the US mail is running behind and some members have not received their March Bulletin. We hope it will arrive soon. Until then you can read the March 2020 Bulletin and all other Bulletins back to 1965 in the members section of the website.

The 2019 Photo Contest winners are announced
The grand prize winning photo, taken by Nancy Riopelle, graces the cover of the March Bulletin. See above.
See all the details and winners here.

See previous home page feature stories.